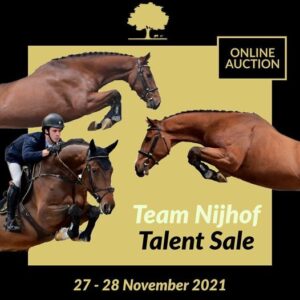 Goodmorning, the 5th Edition of Team Nijhof Talent Sale is open for bidding on saterday morning 27th November 2021 10:00 a.m. and closes on sunday evening 28th Novmeber 2021 at 20:00 pm (dutch time). Take your chance to find your future star and to the site of the Team Nijhof Talent Online sale.
TAKE YOUR CHANCE AND PLACE A BID:
Team Nijhof Talent Sale 🖤Our website is open for bidding. 👉
https://team-nijhof.auction/collectie/9
📍and closes tomorrow evening 20.00 p.m. (dutch time).